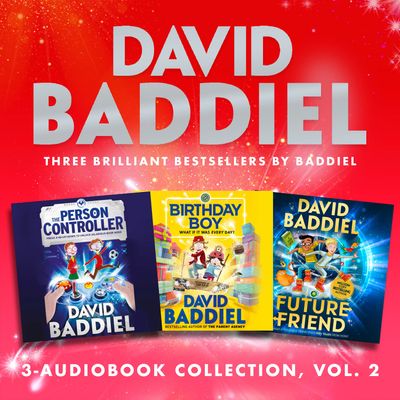 Brilliant Bestsellers by Baddiel Vol. 2
(3-book Audio Collection)

: Person Controller, Birthday Boy, Future Friend: Unabridged edition

By David Baddiel, Read by David Baddiel, Morwenna Banks, Sartaj Garewal, Aysah Kala, Nneka Okoye, Paul Panting, Penelope Rawlins and Sid Sagar
Three brilliantly funny stories from the bestselling author David Baddiel.
THE PERSON CONTROLLER
Fred and Ellie are twins. But not identical (because that's impossible for a boy and a girl). They do like all the same things, though. Especially video games. Which they are very good at. They aren't that good, however, at much else – like, for example, football, or dealing with the school bullies.
Then, they meet the Mystery Man, who sends them a video game controller, which doesn't look like any other controller they've ever seen. And it doesn't control any of their usual games. When the twins find out what it does control, though, it seems like the answer to all their problems. And the key to all their wildest dreams. At least it seems like that…
BIRTHDAY BOY
This is the story of Sam Green, who really, really, really loves birthdays. He loves the special breakfasts in bed. The presents. The themed parties. Blowing out the candles on his cake. Everything.
He is so excited about his 11th birthday, in fact, that he wishes it was his birthday every day.
So, at first, it's quite exciting when his birthday happens again the next morning. And again. And again. And again…
But it's not long before things start to go wrong. Soon, disaster strikes, threatening something Sam loves even more than birthdays.
Sometimes you have to be careful what you wish for…
FUTURE FRIEND
The year is 3020.
Pip@256X#YY.3_7 is lonely and bored: she goes to virtual school on her G-Glasses, she only has a talking cat and parrot to hang out with, and she can't even leave her LivingSpace due to the extreme heat and floods outside.
Until the day that Pip explores a glowing ring in a lab and finds herself in a warehouse, in 2019.
Where she meets boy-inventor Rahul – who is also lonely and bored.
Together, Rahul and Pip are no longer lonely. But they have a whole load of new problems, including hiding talking animals from Rahul's parents, and finding a way back to the future.
Plus – just maybe – saving the world…