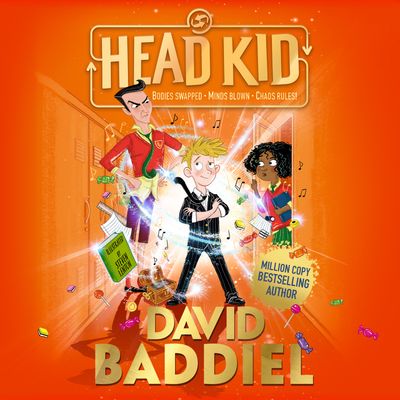 Head Kid: Unabridged edition
By David Baddiel, Read by David Baddiel, Morwenna Banks, Paul Panting, David Rintoul, Nneka Okoye and Aysha Kala
Performed by David Baddiel, Morwenna Banks, Paul Panting, David Rintoul, Nneka Okoye and Aysha Kala. Head Kid tells the story of Ryan Ward, the school prankster at Bracket Wood School and a body swap that involves Ryan swapping bodies with his new head teacher, the strict no nonsense Mr Carter.
Strictest head ÷ naughtiest boy = chaos.
Perfect for family listening, this multi cast recording brings David Baddiel's 'Head Kid' to life showcasing each and every character from David's world including characters from previous books!
Bracket Wood is about to be visited by OFFHEAD, the school inspectors. But there's one big problem: Ryan Ward.
The maestro of practical jokes, Ryan has played so many tricks that in the end the Head Teacher just walks out. And then the new Head Teacher, Mr Carter, arrives. A man so strict even the teachers are scared of him. So imagine his surprise – and Ryan's – when they swap bodies.
Now Ryan is Head Teacher – and his mortal enemy is one of his pupils. It's every naughty kid's dream!
But soon Bracket Wood School is in a total mess – and only its worst ever pupil can fix it…
Reviews for The Person Controller: -
"'A perfect combination of humour, magic and a happy ending." - Charlotte Norman, Waterstones Bookseller
"A real page turner… a compelling story with relatable characters and meaningful life lessons.' Huffington Post -
Reviews for The Parent Agency: -
"'Funny, sometimes moving, always engaging" - Guardian
"'I love this book because it really made me laugh! The best book I've read since I was born!" - Tom, 11, LoveReading4Kids
"'Exciting and funny - I didn't want to put it down!" - Daisy, 10, LoveReading4Kids