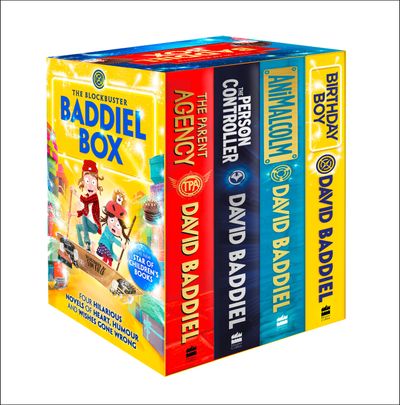 The Blockbuster Baddiel Box
(The Person Controller, The Parent Agency, AniMalcolm, Birthday Boy)
By David Baddiel, Illustrated by Jim Field
Four Hilarious Novels of Heart, Humour and Wishes Gone Wrong.
THE PARENT AGENCY
Barry said, a third time, "I wish I had better parents!" And then suddenly the entire room started to shake…
…there is a world, not far from this one, where parents don't have children. In this world, children are allowed to choose their parents. For Barry Bennett this world seems like a dream come true. Only things turn out to be not quite that simple…
THE PERSON CONTROLLER
Fred and Ellie are twins. Not identical but they do like all the same things, especially video games.
When they meet the Mystery Man, who sends them a very special video game controller it seems to be the answer to all their problems and the key to all their wildest dreams…
ANIMALCOLM
Malcolm doesn't like animals. Which is a problem because his family love them. Their house is full of pets. What the house is NOT full of is stuff Malcolm likes. Such as the laptop he wanted for his birthday.
The only bright spot on the horizon is the school trip, so he finds himself on the bus, heading to… oh no. A farm!
Over the next days, Malcolm changes. He learns a lot about animals and what it's really like to be an animal. It does make him think differently. And speak differently. And eat differently. And, um, smell differently. But will he end up the same as before?
BIRTHDAY BOY
What if it was every day?
This is the story of Sam Green, who really, really, really loves birthdays. He loves the special breakfasts in bed. The presents. The themed parties. Blowing out the candles on his cake. Everything.
He is so excited about his 11th birthday, in fact, that he wishes it was his birthday every day. Sometimes you have to be careful what you wish for…