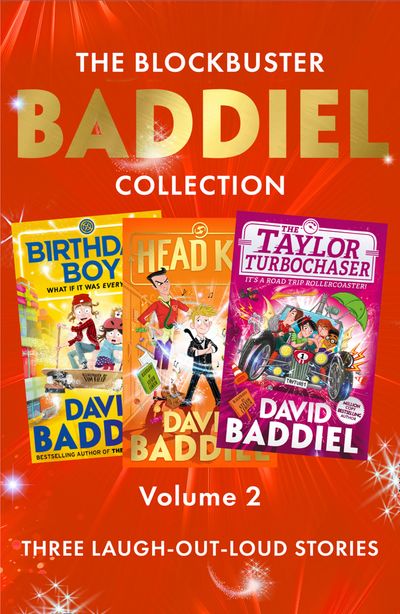 The Blockbuster Baddiel Collection, Volume 2: Birthday Boy, Head Kid, The Taylor Turbochaser
By David Baddiel
Three hilarious novels of heart, humour and wishes gone wrong, from the new star of children's books – by award-winning and bestselling author, David Baddiel.
BIRTHDAY BOY: This is the story of Sam Green, who really, really, really loves birthdays. He loves the special breakfasts in bed. The presents. The themed parties. Blowing out the candles on his cake. Everything.
He is so excited about his 11th birthday, in fact, that he wishes it was his birthday every day.
So, at first, it's quite exciting when his birthday happens again the next morning. And again. And again. And again…
But it's not long before things start to go wrong. Soon, disaster strikes, threatening something Sam loves even more than birthdays.
Sometimes you have to be careful what you wish for…
HEAD KID: Bracket Wood is about to be visited by the school inspectors. But there's one big problem: Ryan Ward.
The maestro of practical jokes, Ryan has played so many tricks that in the end the Head Teacher just walks out. And then the new Head Teacher, Mr Carter, arrives. A man so strict even the teachers are scared of him. So imagine his surprise – and Ryan's – when they swap bodies.
Now Ryan is Head Teacher – and his mortal enemy is one of his pupils. It's every naughty kid's dream!
But soon Bracket Wood School is in a total mess – and only its worst ever pupil can fix it…
THE TAYLOR TURBOCHASER is a road-trip rollercoaster… with a twist.
At its heart is the unforgettable Amy Taylor. Amy loves cars, and dreams of being a driver. But there's a major catch: her slow old wheelchair with its broken wheel. When Amy finally gets a new electric one, it's exciting… at first.
But standard engines only have so much power. And that's where Rahul comes in – Amy's best friend and genius inventor. Soon Rahul turns a wheelchair into… a supercar!
And so the Taylor TurboChaser is born. But when it all goes suddenly wrong Amy is going to have to hit the road – and drive…
"'A perfect combination of humour, magic and a happy ending." - Charlotte Norman, Waterstones Bookseller
"A real page turner… a compelling story with relatable characters and meaningful life lessons.' Huffington Post -
Reviews for The Parent Agency: -
"'Funny, sometimes moving, always engaging" - Guardian
"'I love this book because it really made me laugh! The best book I've read since I was born!" - Tom, 11, LoveReading4Kids
"'Exciting and funny - I didn't want to put it down!" - Daisy, 10, LoveReading4Kids